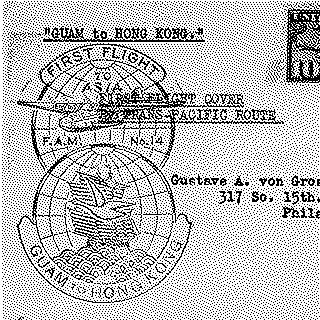 Paper, ink. Gift of the Captain John B. Russell Family, SFO Museum Collection. 2012.149.1962.
Airmail flight cover, Pan American Airways System, first airmail flight, Guam - Hong Kong route; part of first scheduled airmail service between the United States and Hong Kong; black cachet at left depicting double globe design with text, "First Flight to Asia"; postmarked April 27, 1937 in Guam with four-bar cancellation mark over 10-cent and 20-cent stamps; backstamp: April 28, 1937 in Hong Kong; addressed to Gustave A. von Gross..
This is object is classified as "Philately (Airmail Flight Cover)", and is part of the Aviation Archive collection.
Developers